Non-Barndoor Splitscreen buses were made from 1955-1967 in various models.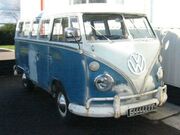 Panel vans were the entry-level commerical model. They had no windows in the cargo area except for the rear window, and there was an optional solid rear hatch available. Panel vans were also used as the basis for several camper conversions, such as Sundial and EZ-Camper who cut their own window holes.
Some people (especially Australians) refer to all buses as "kombis" when actually it's just one of several models. By definition, a "kombi" is a "kombination" of commercial and passenger vehicle, which could change functionality with the quick removal of the rear seats. It has 3 windows down each side of the cargo area, and one in the rear hatch (with the 2 windscreens, and 2 cab windows that makes 11 windows in total). Kombi's have only hardboard panels for interior in the front cab section, covering the doors, roof, and behind the nose. There is no headliner or carpet, and rear seats were optional. Kombis were frequently used as the basis for campers, as the company doing the conversion could fit them out as they liked, without having to throw away seats/headlining etc which would be a waste of money.
The standard bus was the entry-level passenger model. It has the same window configuration as a Kombi (11 Windows), but with a nicer lever of interior trim and a full length vinyl headliner. Standard buses usually came in two-tone paint schemes (a few combinations of colours), and had middle and rear seats.
The Deluxe buses were the top-of-the-line models, primarily intended for export to the USA. They had a nicer interior, polished aluminum body moulding on the waistline bulge of the body (called beltline trim or Deluxe trim) and corner trims on bumpers.
Before 1963 Deluxe buses have wrap-around corner windows and an extra set of side windows at the rear (making 15 windows in total), after 1963 the corner windows were discontinued due to a larger rear hatch fitted from 63 on (making 13 windows in total). This is why pre-'63 deluxe buses are also known as 15-Window Deluxes and post-1963 buses are known as 13-Window Deluxes.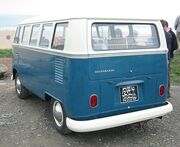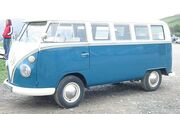 Also available was the 23-Window Deluxe (aka Samba, picture on right), up through '63, and the 21-window from then until 1967. The 21/23 window deluxes had 8 extra skylight windows set in the sides of the roof, and a large full length sunroof.